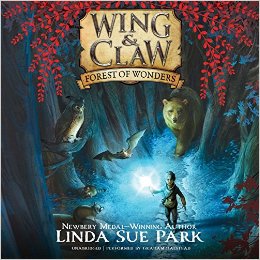 Newbery Award winning author Linda Sue Park is visiting 4th and 5th graders on March 9th to share the second book in the middle grade (4-6th gr.) fantasy Wing and Claw Trilogy.   The first book in the series, Forest of Wonders, received a star review from Kirkus.  Here's what they said about the book:
Kirkus Reviews starred (December 15, 2015)
After discovering a vine with powerful properties in the protected Forest of Wonders, 12-year-old Raffa journeys to Obsidia's capital, where he uncovers a sinister government plan to use botanicals to endanger and enslave animals. Raised to be an apothecary like his parents and uncle, Raffa's something of a prodigy. Despite Raffa's "keen instinct for apothecary," though, his father treats him like an apprentice. When Raffa cures an injured bat with a remedy created from a mysterious red vine, the bat is suddenly able to speak. Subsequent work with the vine triggers Raffa's sudden departure to Gilden to warn his uncle and cousin of the plant's potential dangers. In Gilden, Raffa betrays his father's teaching by using apothecary for "his own ends rather than for healing." Reunited with his uncle and cousin, Raffa's eagerness to participate in their groundbreaking work evaporates when he realizes his uncle's involved in horrific experiments with animals. The measured pace builds to a cliffhanging climax as Raffa balances family loyalties, compelling ethical dilemmas, and his role as an apothecary, all at a level completely accessible to the audience. Echo the bat is a particular delight, and among Raffa's new friends in Gilden are dark-skinned Kuma and working-class Trixin. Final art not seen. With its engaging hero, talking animals, arcane magic, moral issues, and unresolved plot, this first of a proposed trilogy promises more exciting forest wonders. (fantasy 8-12yo)
I've seen it over and over again. Students are changed as readers when they meet authors. They instantly create a strong bond to the book/author and want to read, reread the book.  We are taking orders for both Wing and Claw books up until March 3rd.  You can find the order form HERE.