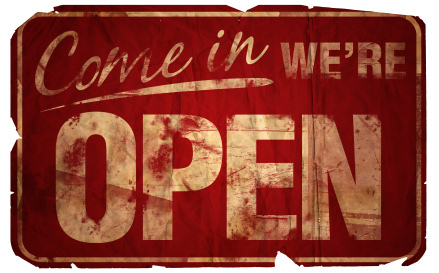 Who owns your school library? Is it you, the librarian? The students? The teachers? I've been know to claim ownership of our space and say things such as, "I love my library!" or "Come visit my library". But it's not really my library, is it? Then who does it belong to?
People often comment about our library, saying how inclusive and welcoming it feels. I've heard more than a few times that it's because I "let people walk through it". Yes, I hear that over and over again. "The doors are open and she LETS PEOPLE WALK THROUGH IT". Every single time I hear that I shake my head, perplexed, smile and chuckle a little. Sometimes parents walk through on their way to the back hallway nodding and apologizing about walking through the library. Other times they bring grandparents in to show them the library and again, apologize for being in the library. Every single time I say no apology is needed. You are always welcome in this library.  Even now, three years after first opening our doors, people still comment about how welcoming our library is and how I "let people walk through it".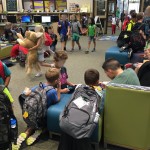 JRE began its third year this August and on the first day of school, in August 2014, we opened the library doors and welcomed students to Randolph. Students were welcome to walk through the library to reach their classrooms. As a matter of fact, we very quickly decided that students in grade 2-5 can hang out in the library with friends and check out books before heading to their classrooms. And, because I love music and we have an amazing sound system, I created a library playlist and regularly play music starting at 8 AM.

If you were to visit our library on any morning, it's filled with students checking out books, using technology, trading Pokémon cards, playing with Legos and blocks, and reading in the dog house. My library partner and I along with our amazing volunteers, greet students, check in/out books, talk about books, answer many questions, and get more than a few hugs before the day even begins. Just ten minutes, 8-8:10 and then they are on their way to begin their day.
The library doors stay WIDE OPEN throughout the day as students quietly walk through on the way to the front office, the nurse or an intervention classroom, waving and smiling if they see us. Teachers walk through (mostly quiet) during their planning period on the way to the workroom or a meeting. Some stop and say hello, ask a question or check something out. Students are also welcome throughout the day to return/checkout books, read in the library or use resources and technology.
We want students to ALWAYS feel welcome in the library and ALWAYS feel they can come and look for a good book. It is not MY library. It is OUR library. It belongs to the entire JRE community and the doors are always open to everyone.